Using landscaping stone Dallas for decoration is not exactly a new concept, but it has proved itself time and time again to be a great method to improve the look of gardens and yards of homes and palaces all around the world.
Landscaping stones add a lot to your landscaping design. They're a great and easy way to decorate your yard, build a path, separate flowerbeds, place around a pond or tree or you can even use big ones to create a rustic, natural seat. Our online store is the best place where you can buy landscaping stones and the variety is quite large. You should take you time to consider what type of stone are you going to use for each feature, and you should try to get the best quality your money can buy. After all, rocks last forever!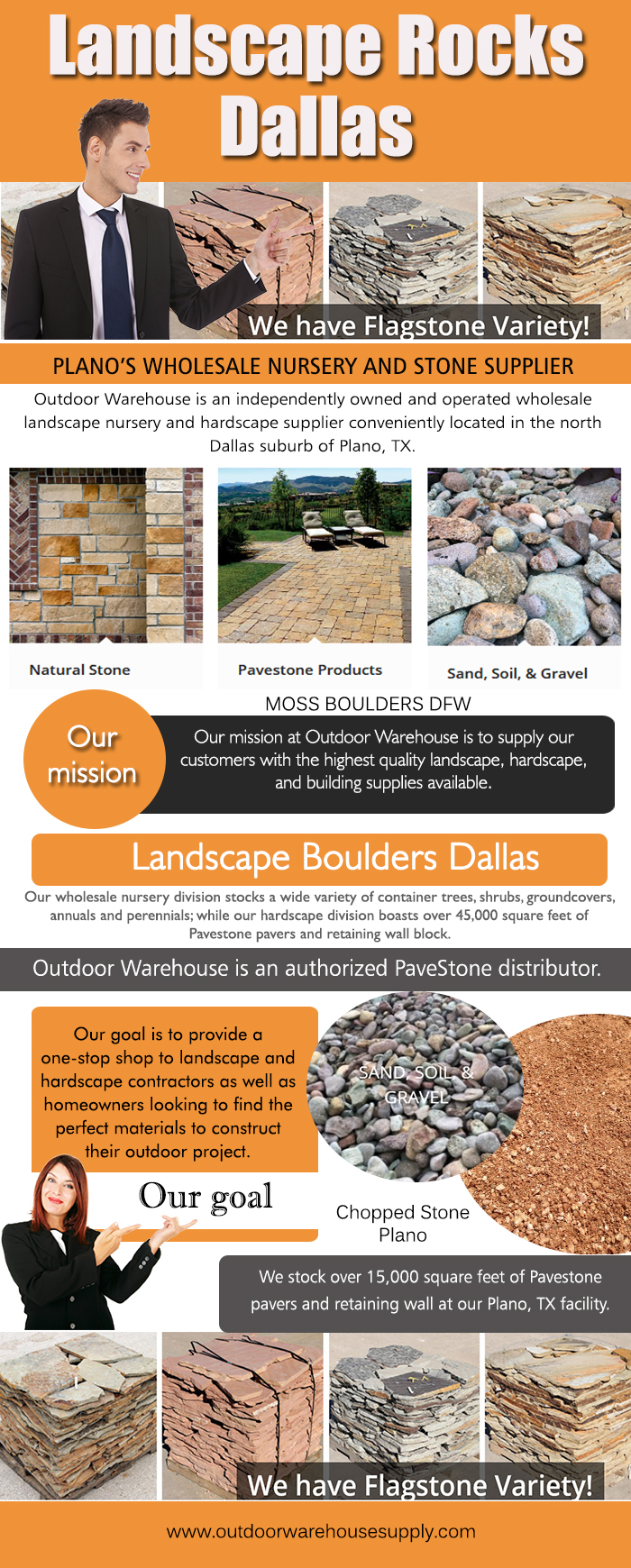 There's an endless list of thing you can do with landscaping stones: you can create a patio, build a wall, columns for pergolas, use them as foundations for other building projects, set paths, use them to attract the eye to certain features, and use them for decoration purposes in water features. And these are just the basics, imagine what you can do with some ingenuity and some stones!
A very popular trend in landscape design is the use of stone to add character and definition to an outdoor space. There are many ideas that you can put to use to make creative use of landscaping stone Dallas in your landscaping. The reasons for using stone can be many. Perhaps you have accidentally dug some up while sculpting your yard or planting shrubs. While they were a pain in the back to dig up those beauties can be used to create a beautiful space.
Or perhaps you just like the look of stone and want to know ho to use it. Well if you are looking to make your outdoor space become the envy of the neighborhood then you're about to learn some ways to use these design elements in your next landscape project.
Stone Types And Exciting Landscape Uses
Many homeowners and designers use stones as pathways or stairs placing them in a way for easy foot traffic. While others prefer to make large stone features such as walls or even using boulders as large features much as you would a tree or stature.
The stones you will have at your disposal will vary depending on where you live. The most common stone types are limestone, slate, sandstone, cobbles, and flagstones. Each rock has its best applications in landscaping so lets cover a few and get some ideas for your landscaping project.
1. Cobblestones –
These are a classic stone with simple rounded lines that that are a very popular choice for walkways. If you have seen ye olde cobblestone roads then you know the image they create. They have a rugged elegance that is great for creating pathways through gardens or lawns and they are simple to use.
2. Slate –
This is a very popular stone choice for landscaping. Because of their flat level surfaces they are great building materials to create retaining walls, or stepping-stones for an elegant pathway. Their flat designs make it easy to stack flagstones one atop the other to create a solid vertical structure without the need for cement or mortar.
3. Quartzite –
For decorative uses and creating visual appeal quartzite is a great choice. This stone has small crystals on its exterior that reflect light in a sparkly manner. This makes Quartzite an excellent choice for fill stone in garden beds or under shrubs. These stones come in a wide array of colors and sizes to fit practically any landscaping project. Plus they are very easy to use, just pour and rake into place! Usually will have some reflective ability resembling a crystal. Makes for excellent rock garden or edging for your flower beds. These also can be found in a wide range of colors to go along with the color scheme you have already set.
Landscaping stones can bring depth to your landscaping design more easily. Creating depth to your yard can be a tedious task. One way of doing this is by leveling up some parts of your yard to change the slopes. Having colored stones look great during winter when the environment looks white and bare. You can accentuate your patio and fences by putting nice stones around them. You can actually make a great transformation in the look of your yard by simply using stones.
Landscaping stones come in all sizes and shapes. Depending on the impact that you want to create, you may choose stones according to their size. Some parts of your yard may require bigger size of stones. You can also mix and match different colors to create a more wonderful look.
Landscaping involves several elements in order for it to look great and one of these elements is landscaping stones. Nice arrangement of stones can give a natural look and feel to your yard. A perfect landscaping stone Dallas design includes layering and this can be done through the use of stones.
Look here for more info on Pavestone Pavers For Sale Dallas & Plano Tx.
Related Tags:
Contractors Stone Supply Plano Tx,Stone Yard Dallas,Custom Stone Supply Dallas,Landscape Rocks Dallas